APPLYING TO THE MLS PROGRAM
A Step-By-Step Guide
Take the first step in your graduate career by submitting your application for the Master of Liberal Studies. This comprehensive guide provides a preview of what to expect as well as helpful tips to submitting a strong graduate application.
---
Accessing the application
Step 1: Access the application
Navigate to gradapply.rice.edu in your favorite browser.
Step 2: Create your account
Generate an account using your email address, first name, last name and birth date.
You'll receive an email with a temporary pin to use on the next screen.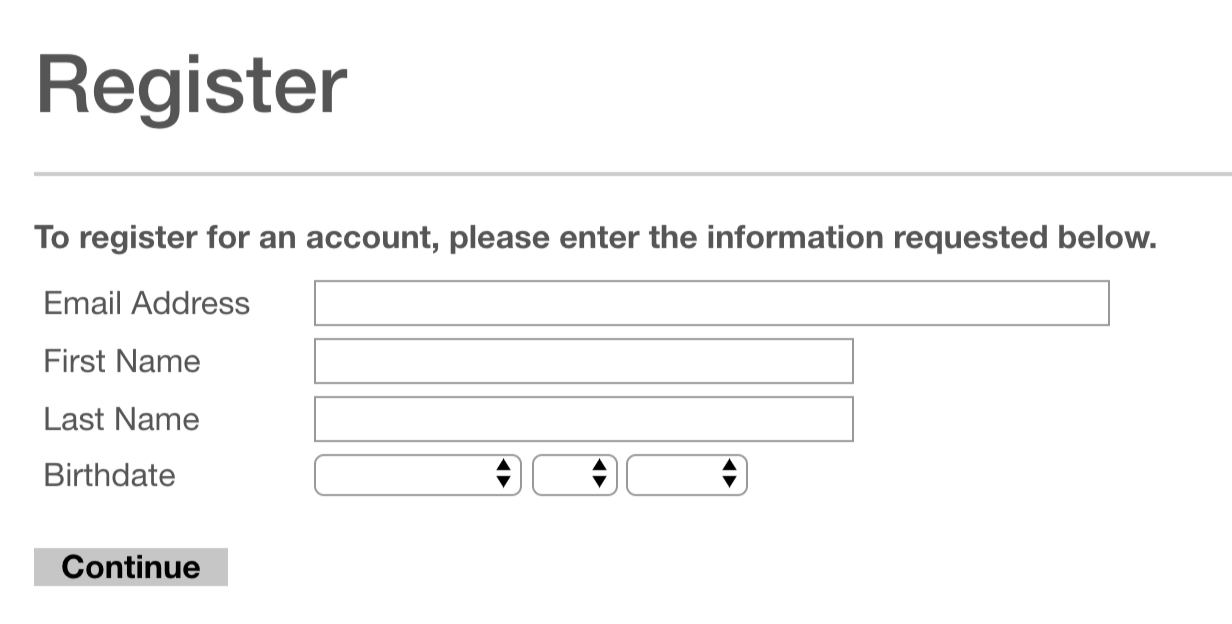 Step 3: Log-In
Log in to your application account using the temporary pin.

Step 4: Indicate your intended program
Select Liberal Studies and Master of Liberal Studies to start your MLS application.

---
Beginning your application
Step 5: Review the application materials
To be considered for admission, you must submit the following information by the application deadline:
Completed Application for Admission
Application fee ($85 nonrefundable payment; waived if you attended an information session)
Current Resume
Personal Statement
Writing Sample
Official transcripts from all previous colleges or universities attended, mailed directly to the Graduate Liberal Studies office
Two references who will be asked to provide a letter of recommendation
Once you submit your application, you will be invited for an admissions interview.
Note: GRE test scores are not required. International applicants requiring a student visa (F-1 or J-1) must be enrolled with full-time study.
Step 6: Personal Background
Here you'll provide your name, address and contact information.
Step 7: Experience
Let us know a little more about your academic and professional history. Think past creative projects, resume and publications. You'll also have an opportunity to share any additional information about your experience you may find relevant.
Step 8: Academic History
Add your post-secondary institutions and any pdf or scanned copies of your transcripts. Note: you'll still need to submit all official transcripts.
Step 9: Letters of Recommendation
The MLS program requires two letters of recommendations. But don't fret - we'll give you tips to securing high-quality recommendations. Note, recommenders will receive a system-generated email upon clicking "Send to Recommender" so be sure you've already reached out to them prior to this step. If you have completed undergraduate or other graduate work in the past five years, your references should come from former professors. For those who have not recently attended an academic institution, we prefer letters of recommendation from someone who knows your work professionally or understands why an MLS degree would be important to your intellectual development.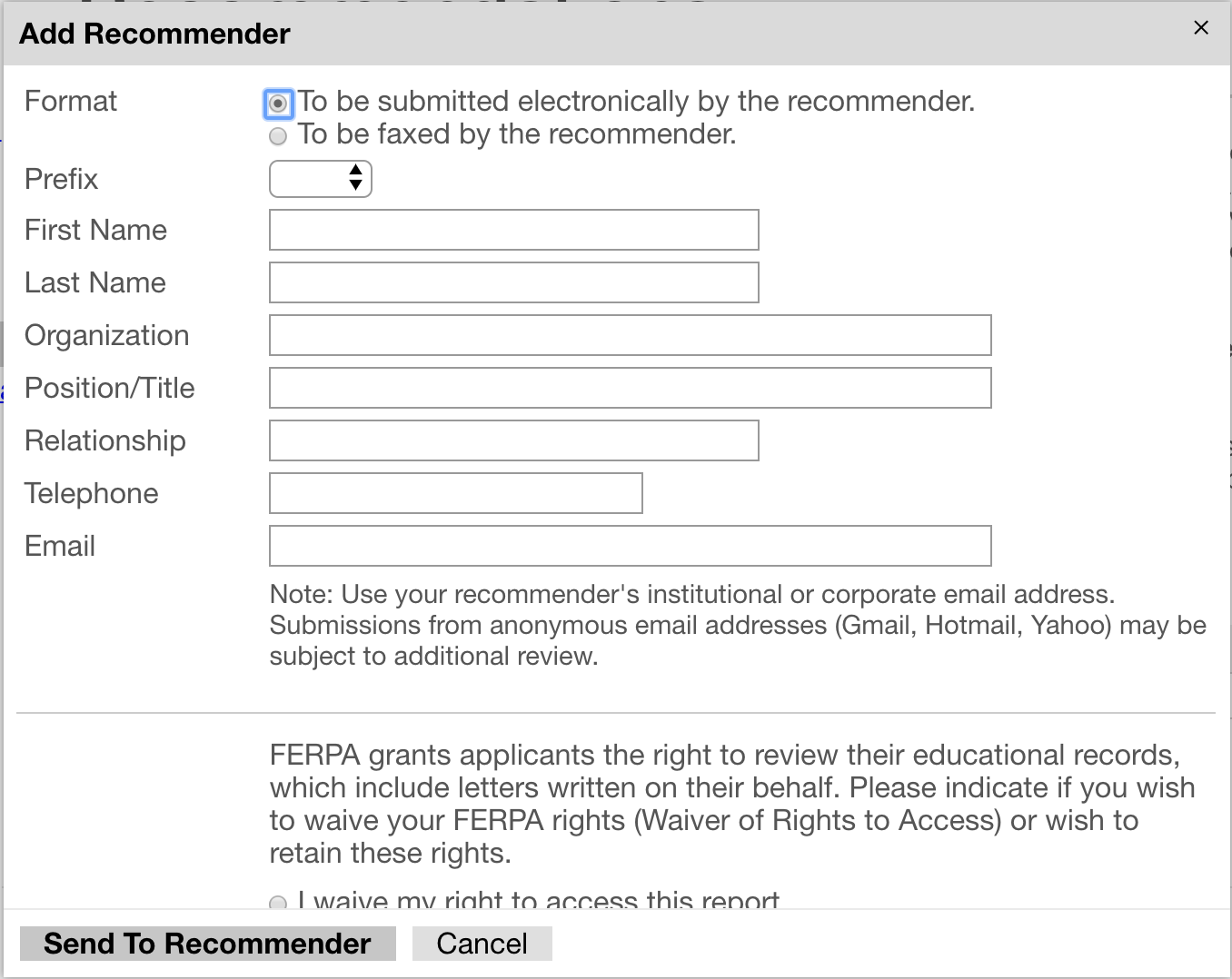 Evaluate your network

Think about who you know and who you can ask to vouch for you. It's important to identify people who are not only willing to help you but also who know you well enough to write a unique positive reference. Bonus points if you can find someone in the industry or field you wish to study, as they have a unique perspective on what qualities are needed to succeed.

Arm them with the details

Make it easy for those you approach to write their letters. Ask them well in advance and provide them with a bulleted list of the program, your interest and why you believe you're a good candidate. Provide the logistical information, like what to expect when submitting the letter online and the deadline, to them so they don't have to search for it.

Lend a hand (A Letters of Recommendation Template)

Chances are that your recommenders live busy lives. Offer to provide them a template (like the one below) if they'd prefer to use one.

To Whom It May Concern:

I would like to recommend NAME for the PROGRAM at UNIVERSITY NAME. I have known NAME for # OF YEARS through our work together at/their work as/their studies at _________________ and believe they would be an excellent candidate for the PROGRAM because __________________. Throughout the time I've known NAME, I've appreciated their ability to ____________, which I believe would make them an asset in this program because ______________.

Thank you for your time and consideration.

Best,
SIGNATURE
Step 10: Personal Statement and Writing Sample
You will submit a personal statement and a writing sample to accompany your application. These pieces will allow us to get a peek at your motivations and critical thinking skills. See our tips below for getting started.
3 Tips for an Impactful Personal Statement

One of the most difficult tasks in applying to graduate school is writing a personal statement. Writing about yourself is really hard—what do you focus on? How do you sell yourself as a candidate and sum up a lifetime of experience in just a few hundred words? Here are three tips to craft a personal statement that sets you apart:

1. Start in the middle, not the beginning.

Have you ever had a five-year-old tell you a story? They start with the beginning and continue with each step of what happened until they're finished. It's adorable, but not the most effective way to draw in your audience. A great personal statement tells a good story—it needs a lead paragraph that immediately puts the reader into your perspective. Start with the climax by answering the question: Why am I applying for this program? Find the real reason, not just the logistics. Write about why you're passionate about what you want to study, but do so by starting where the action is.

2. Dive into the details.

This is where you back up what you talk about in your lead paragraph. Add in all of the relevant facts that you can—how your education, training and background have prepared you for graduate study. Think of your life as a tapestry, each thread of experience weaves together to create something greater. It is your job to connect those threads while weaving the bigger picture for your reader.

3. End with a summary.

The last paragraph of your personal statement is your final chance to make an impact on the reader. Go back to your lead paragraph and reconnect with your why. Reiterate how this program will help you get where you want to go and how you will be an asset in this field of study. That's the real work of a summary—to leave your reader with a clear idea of who you are and why you're right for the program. Finish strong.

Your Writing Sample Step-By-Step

Writing a compelling essay is by far one of the most important parts of your application to the MLS program. It's a chance to display your critical thinking skills and show off your writing chops as you thoughtfully examine a contemporary issue of your choice. Want assistance? Read our Writing Tips for Your MLS Application.
---
Submitting Your Application
Step 11: Test Scores
If you're an international student, this is where you'll submit your TOEFL scores. Otherwise, you're free to disregard this section.
Step 12: Signature
Type your name to confirm your application is accurate and complete.
Step 13: Review & Submit
This is your opportunity to review the components of your application. The system will notify you if any required pieces of our application are missing or incomplete.
---
Congratulations on completing your MLS application! The only thing remaining is your admissions interview. While the idea of an interview may seem daunting, this is simply a time to get to know each other. You will meet with the Graduate Liberal Studies director and have an opportunity to ask any lingering questions. The Graduate Liberal Studies office will be in contact with you to schedule this last step.
CONTACT US
Have Questions?
We're here to help. Send us your questions using the form below and a representative from the MLS team will be in touch.