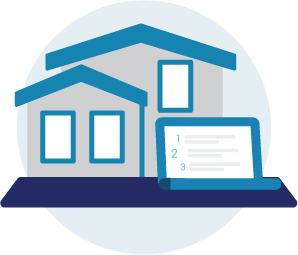 MAXIMIZED
FLEXIBILITY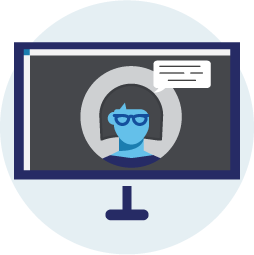 INCREASED
ACCESSIBILITY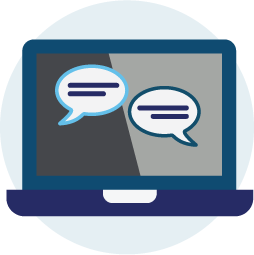 GREATER
ENGAGEMENT
OpenRICE is an initiative by the Glasscock School to offer relevant and timely expertise and insight, free and online, to the Houston community and beyond. Reflective of the wide-ranging nature of our educational programs, these single session experiences will help Houstonians gain a greater understanding of a multitude of topics during an era of dramatic transformation, and serve as an educational supplement and primer for further thought and deeper study.
Learn more about the Glasscock School's OpenRICE Initiative.
Frequently Asked Questions
Types of online courses offered through the Glasscock School

Synchronous Learning - These courses are fixed-time, live sessions where instruction is facilitated virtually. These courses are primarily delivered through Blackboard Collaborate or Zoom technology.

Blended Learning - Blended courses combine online educational instruction with live learning experiences, either at Rice University or in a digital space. These courses primarily utilize the Canvas platform.

On-Demand - On-demand courses are entirely self-contained within a learning management system, and students may engage with the content at their own schedule and pace.

Details specific to your course can be found in the online description. Whatever type you sign up for, we are here to ensure you have an amazing educational experience and will do all we can to help in that.

What can I expect from an online course?

Our online instructional approach engages you through subject matter experts, opportunities to try out new knowledge online in the comfort of your home to deepen your learning and rooted in a cohort experience where sharing and discussing with your instructor and community are encouraged.

What are the differences between campus and online classes?

Our online classes, either interactive or lecture series, provide the same content as our face-to-face classes. They differ in the method of delivering that content and the means of communication between instructors and students.

Interactive Classes

Our classes will be going online and will take place in our "virtual classroom." Your experience from within the "virtual classroom" will be very similar to the face to face classroom. You will be able to see and hear your instructor via video as well as the class PowerPoint. Collaboration between students and the instructor will take place as it does in the face to face classroom using your microphone and or the chat function. The classes will take place at their originally scheduled time.

Lecture Series Classes

The lecture series will be pre-recorded and accessible the week of your scheduled class. All you will need to access the lecture is a computer with speakers and the internet. The lectures will be available for viewing for one week from the time of your originally scheduled class date, this will give you a chance to watch the video at your own leisure.

Are there a maximum number of students per course?

Course sizes vary, but are always kept to an appropriate size to foster interaction and instructor attention. At the Glasscock School of Continuing Studies, we strive to keep class sizes manageable for optimizing learner-to-learner and learner-to-instructor interactions.

Do I have to be online at specific times?

Depending on the course, you may need to login at designated times. Check individual course information to determine the course schedule and synchronous requirements.

Who teaches online courses?

Our online faculty and instructors have industry experience as well as academic degrees. Their real-world credentials enrich course materials, class discussions and one-on-one interaction. Additionally, they have completed special training in online education and receive extensive support from the Glasscock School's Online Learning support team.

Will I receive continuing education credit for GSCS courses?

Many of the Glasscock School courses offer Continuing Education Units (CEUs). Please check the individual course information page for details.

Do I need high-speed Internet access for my online classes?

Yes, we recommend high-speed wired and /or wireless Internet access, so you can access all course materials, including videos and participate in virtual classrooms. We do NOT recommend less than 56kps download speed.

Once enrolled, how do I access my course?

You will be contacted by the Glasscock School with your login credentials and/or link to the learning management system.

If I am having issues with my online course, will there be someone available to assist me?

Yes! Call the GSCS online help desk at 713-348-6112. Support is available from 8 a.m.– 8 p.m. Monday–Thursday. For general questions and non-emergency support you can also email gscs@rice.edu.
Connect with the Glasscock School
---
POSTAL ADDRESS
Susanne M. Glasscock School of Continuing Studies - MS-550
Rice University
Houston, TX 77005
STREET ADDRESS
Susanne M. Glasscock School of Continuing Studies - MS-550
Anderson-Clarke Center
Rice University
6100 Main Street
Houston, TX 77005